The Audi RS4 Buying Guide – Estate of the art performance motoring

The first-generation Audi RS4 took the fast estate car category to new heights thanks to stonking performance allied with great useability
Audi may offer everything from fuel-sipping city runabouts to mid-engined supercars but at its core is the fast estate car, a recipe it has been perfecting ever since the very first RS2  Avant upset the sports car pecking order when it arrived in 1992.
While that model may have been testing the waters, its spiritual successor the B5 RS4, had the task of taking the fight to Mercedes and BMW. Introduced in 1999 it was equipped with a thoroughly revised 2.7-litre twin-turbo V6 taken from the S4, thanks to Cosworth it pumped out 375bhp and despite a portly kerb weight the quattro all-wheel-drive system launched it to 60mph in well under five-seconds. Slightly laggy at low revs, it made up for it with mid-range punch that still impresses in a modern context.
And the competition? Mercedes' C32 AMG could be had in estate form, but good luck finding one. The supercharged 3.2-litre V6 made 349bhp but equipped with an auto 'box it was an altogether softer offering. Of more concern was BMW's newly launched 338bhp E46 M3, the high-revving naturally-aspirated motor and rear-wheel-drive layout made it the ideal choice for the track, but in real-world driving conditions the RS4 was the more accomplished car.
While the RS4 could not claim to have been jointly developed by Porsche as the RS2 had been, it could still match a contemporary 911 Carrera in a straight line, all while carrying a week's worth of shopping in the back. Unlike its rivals though, pushed to extremes the RS4 would revert to speed-scrubbing understeer, a trait that tends to define most fast Audi road cars. Aside from the odd track day excursion, it is far less of an issue on the fast-flowing back roads and daily commute that most of these cars are used for. Available for just two years and with just over 500 cars making their way to the UK, the first-generation RS4 adds exclusivity to its list too.

Audi RS4 Engine and Gearbox
 The 2.7-litre twin-turbo V6 is a reliable unit, the majority of issues tend to come from owners who have heavily modified their cars. The block can take a lot more boost but unless the cooling system and the rest of the components have been upgraded too, things can get messy. Budget on replacing cambelts every 40,000-miles, water pumps last not much longer.
Whistling turbos may need rebuilding, while cracked intercooler hoses and damaged MAF sensors will severely impact the performance. Camshaft wear afflicted some cars, an expensive fix but one that should have been carried out by now. The sole transmission option was a six-speed manual, it provides satisfying shifts and is generally up to the job but check for worn synchros and clutch wear on the test drive.
Audi RS4 Suspension and Brakes
Don't be alarmed if the suspension feels rock hard over bumps, that is how they all feel, but if you hear clonks or noises over bumps then the bushes and shocks may need attention. The brakes are generally strong, but replacement discs and pads can be costly, some owners have fitted aftermarket items or upgraded to the latter B7 RS4 setup which offers more retardation.
Early cars suffered from weak alloys which could buckle, these were replaced by Audi under warranty but it is worth checking that your particular car has the upgraded items.
Audi RS4 Bodywork and interior
 Comprehensive galvanising means that only cars left outside for 20 years or those with accident damage should be exhibiting any rust. Parking lot dings and front bumper resprays are par for the course after this length of time but in general, there should not be much wrong with the body panels.
The fabled Audi interior build quality is evident in this car too, aside from some issues with door switches precious little goes wrong with the electrics. The material quality is also top notch, the optional leather seats can get shiny with use and the leather-clad centre console can get scruffy but excessive wear elsewhere points to an uncaring previous owner.
Model History Of The Audi RS4

1999:   First-generation B5 Audi RS4 launched, available solely in Estate body shell, quattro all-wheel-drive and six-speed manual
Options included Recaro seats, leather interior, sunroof and satnav
2001:   Final RS4 built. 6,030 units built with 517 imported into the UK

Which Audi RS4 To Buy

With just one model produced in one bodystyle, your choice is down to colour and whether you want one with the optional sunroof and comically basic satnav system. Silver was the default choice for more than half of first-time RS4 owners but the eye-catching Nogaro Blue and Imola Yellow look great on this quick estate too, with just 517 sold in the UK you can't be too picky.
Standard low-mileage cars are always going to fetch top dollar but don't avoid a lightly modified example if it was done by a specialist. The strong mechanicals mean that higher mileages are not a big issue, just make sure the service book is fully stamped.
Quick, practical and rather rare, the B5 RS4 is no longer the bargain it once was. Most cars tend to be owned by enthusiasts which should ensure that they are well-cared for too. The first-gen RS4 may not be a track weapon in the vein of a contemporary M3 nor as accomplished a cruiser as the C32, but its talents on the roads most travelled make it the most practical of the lot.

Audi RS4 Specifications
2.7-litre twin-turbo V6
Power:             375bhp
Top speed:       155mph (limited)
0-62mph:         4.9sec
Economy:        24mpg
Text John Tallodi Photos Newspress, House of Cars Belgium
Related Posts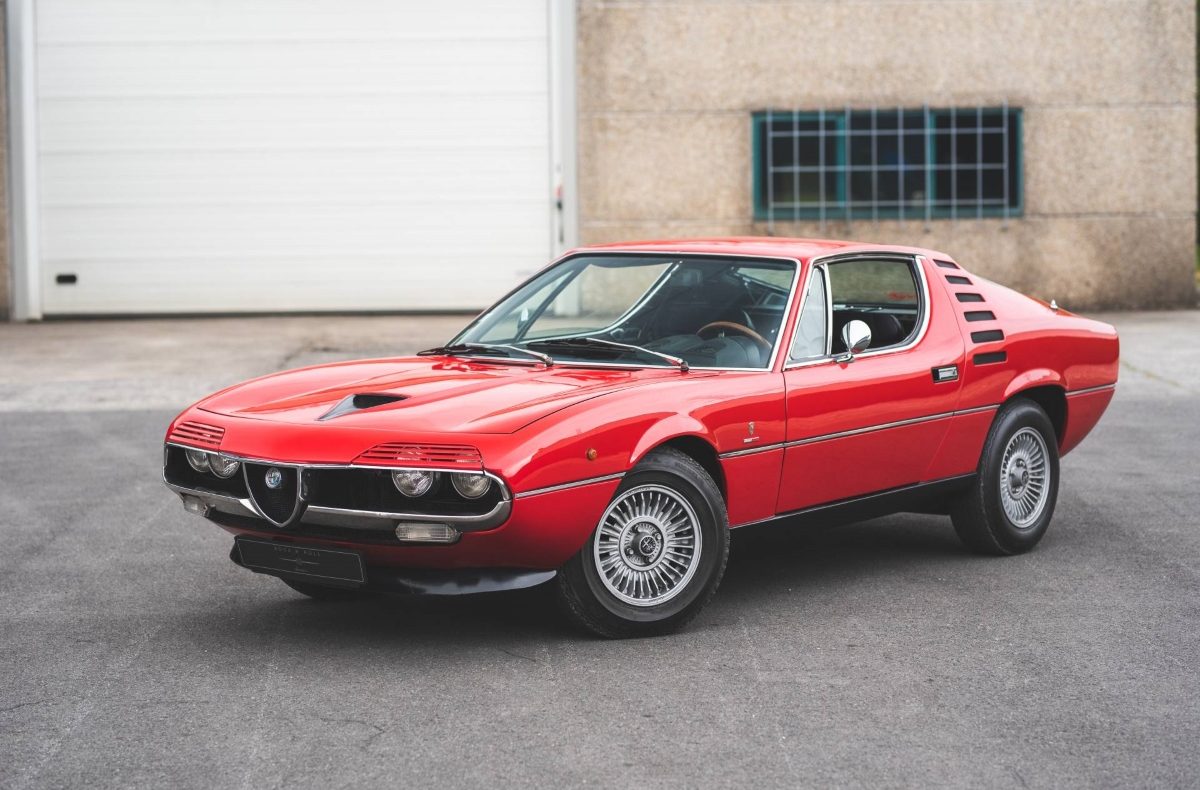 A classically styled Italian V8 with looks that stop traffic, the Alfa Romeo Montreal is a rare delight that is still a sublime drive on the right roads.