1960 |

Jaguar XK 150 3.8 S DHC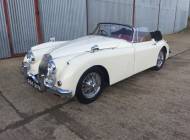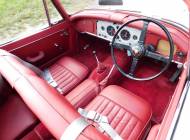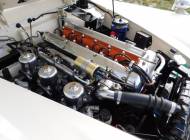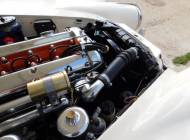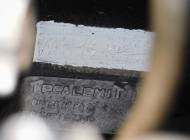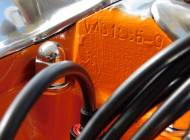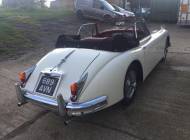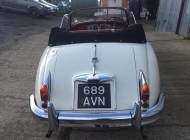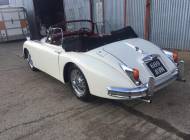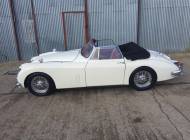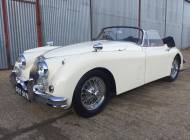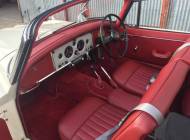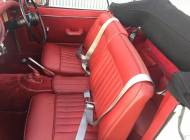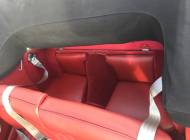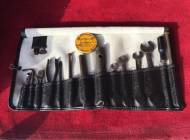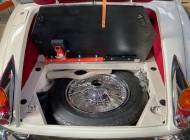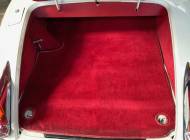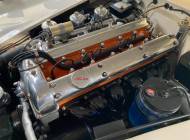 1960 |
Jaguar XK 150 3.8 S DHC

Voertuigdetails

Kenmerken

| | |
| --- | --- |
| Merk | Jaguar |
| Model | XK |
| Uitvoering | XK 150 3.8 S DHC |
| Serie | 150 |
| Bouwjaar | 1960 |

Technische details

| | |
| --- | --- |
| Carrosserie | Cabriolet |
| Carrosserie detail | Convertible |
| Vermogen (kW/PK) | 198/269 |
| Cilinderinhoud (ccm) | 3.781 |
| Cilinders | 6 |
| Deuren | 2 |
| Stuur | Rechts |
| Transmissie | Manueel |
| Versnellingen | 5 |
| Aandrijving | Achterkant |
| Remmen voor | Schijf |
| Remmen achter | Schijf |
| Brandstof | Benzine |

Individuele configuratie

| | |
| --- | --- |
| Kleur | Wit |
| Interieurkleur | Rood |
| Interieur materiaal | Leder |
Beschrijving
1960 Jaguar XK150 S 3.8 DHC, Registration 689 AVN.
Date of Manufacture 09th August 1960
Chassis Number T825318DN, Engine Number VAS 1235-9, Body Number J11180 Gearbox JLS 46395 JS

Old English White with Red hide interior, 3.8 S engine with Manual overdrive gearbox, Date of Manufacture 09 August 1960, Date of dispatch 01 September 1960, Original distributor Glovers of Ripon, Harrogate, Yorkshire, Original dealer Clarendon Motors, Bishop Aukland, Original registration JHR 685 and first owner Mr J.H. Robinson, Yarn, Yorkshire.

Original colour of Carmen Red with red leather when it left Browns Lane, Coventry, it was a fixed head coupe, however, I believe that the conversion was carried out in the late seventies /early eighties, as perusal with the XK range, the fixed head coupes were built with all of the components and substructure to convert to drop head coupes with little fuss, this probably occurred, as like all prices back in the day, drop head coupes were three times the price of a fixed head coupe, because this vehicle has been in its present format longer than it was originally intended, it seems uneconomical to convert it back to Factory specification, the engine, cylinder head, gearbox and body are all correct numbers matching, engine and cylinder head are carrying the VAS prefix, the car has some nice Factory options when new, Thornton Limited Slip Differential, Manual Overdrive gearbox, correct, as new 16" Chromium 54 spoke wire wheels shod with a new set set of 185/80HR16 Vredestein tyres, the braking system has been upgraded to 4 pot Cooper Craft front callipers and Zeus single pot callipers on the rear, new discs and splined hubs all round, there is a black double duck hooding along with a matching hood bag, both in good shape, nicely detailed boot area, including a full set of Original tools in their tool bag, timber knock off tool for the wheel spinners. The engine starts immediately and sounds very crisp, a full service has just been carried out, the manual overdrive gearbox works and engages very well, the open top driving is a great treat.

The previous owner has owned the DHC for 25 years and has been lovingly cared for, supported by 28 Mot's, oldest Mot from August 1987 mileage showing 78,126, the Jaguar has just passed a new Mot with flying colour's, so valid till 02 June 2021 current Mot mileage showing 109,065 There is a large selection of Invoices from Jaguar specialists, there was a cosmetic restoration in April 2015 at a cost of £8,900.00, prior to that there is an invoice from CMC, Bridgenorth, Shropshire in June 2003 for just over £7,600.00 within the history file there are many mechanical and parts invoices totalling £18,542 for the last twenty five years of ownership, a credit to its previous owner, all said and done, this is still a numbers matching XK150 S, Original RHD UK Supplied car, in total there were the following production numbers for the XK 150 3.8S Variants, OTS 36, DHC 89 and FHC 150, with original numbers matching XK150S 3.8 DHC or OTS in the region of £300K to £350K it makes my car a bargain, so what ever your fancy, this is still one super rare Jaguar.

Since I purchased this XK150S my company has completely removed the majority of the chrome and had it fully stripped and re-chromed, fuel tank removed media blasted and gloss black powder coated, new Koni rear shocks, underside stripped and painted satin black, new fuel pumps, new copper brake lines, engine bay fully pulled apart, engine bay painted OEW along with the bonnet and boot lid and various other areas, all black engine bay ancillaries have been media blasted and powder coated satin black, all alloy components removed and professionally polished, Pumpkin cylinder head painted, new chrome engine nut and washer kit along with all new gaskets fitted, new glass fuel filter fitted, new HT leads and spark plugs, new radiator, new coolant hoses, carbs rebuilt, new 2 x exhaust manifolds, new J type headlamps, new chrome headlamp bezels, new pedal box bearings, the engine bay is now in Show condition, twin stainless steel exhaust fitted, there is an accompanying invoice from my company totalling £51,328.01 for all this very recent work completed, there are two large History files and a Heritage Cirtificate, the car has just flown through a new Mot June 2021 with no advisories.

No Offers.
Toon meer
Toon minder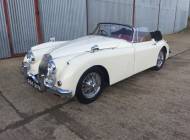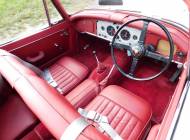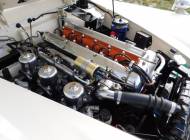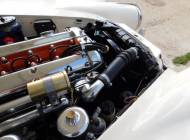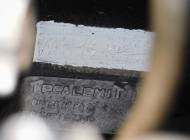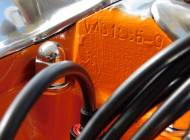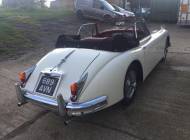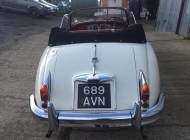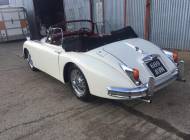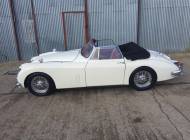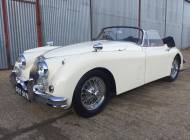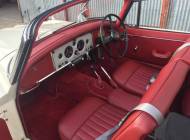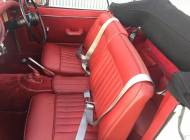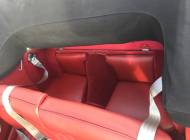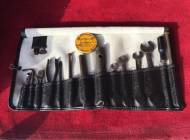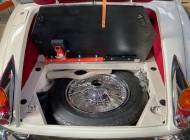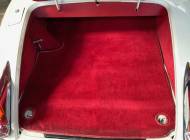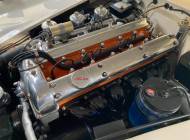 Dealer profiel
Alan Carrington Classic Cars Ltd
Big Allington Farm, Pilgrims Way
ME17 1RD Maids
+44 1622 880005
Alan Carrington
Verkoper
Route
Alan Carrington Classic Cars Ltd
Big Allington Farm, Pilgrims Way

ME17 1RD Maidstone
Big Allington Farm, Pilgrims Way

ME17 1RD Maidstone
Alan Carrington Classic Cars Ltd
Big Allington Farm, Pilgrims Way

ME17 1RD Maidstone
Big Allington Farm, Pilgrims Way

ME17 1RD Maidstone
Alan Carrington Classic Cars Ltd
Laden...
Laden...