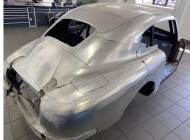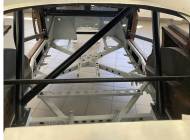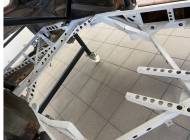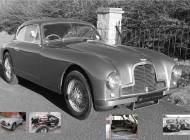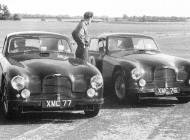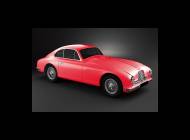 Dettagli del veicolo

Dati veicolo

| | |
| --- | --- |
| Marca | Aston Martin |
| Modello | DB 2 |
| Versione | DB 2 |
| Anno di fabbricazione | 1952 |

Dettagli tecnici

| | |
| --- | --- |
| Per carrozzeria | Coupe |
| Tipo carrozzeria | Coupe |
| Cilindrata (ccm) | 1 (da fabbrica: 2.580) |
| Posizione volante | Centrato |
| Cambio | Manuale |
| Carburante | Benzina |

Configurazione individuale

| | |
| --- | --- |
| Colore carrozzeria | Altri |
| Denominazione colore del produttore | - |
| Colore interni | Altri |
| Materiale interni | Stoffa |

Allestimenti
Descrizione
(NB - pictures show car as it is today - thumbnails show pix of car arrived - standard car pic and team car pictures are a representation of what it could look like.....final picture is a rough mock of the very rare and unusual factory delivery colour...would stand certainly stand out!)

_- Mille Miglia Eligible
- Period race history
- Very rare project opportunity_

Now here is an interesting project....

We purchased this 1952 Aston Martin DB2 LML/50/80 back in 2009 to restore as a Mille Miglia Eligible racecar. We were actually thinking along the lines of building the car to Works Lightweight Team Car specification, but despite good intentions the car has languished in our workshops as predictably work on customer cars has taken precedence.

We half-heartedly advertised it a few years ago but really were not interested unless someone wanted us to restore it to the specification we believed it deserved. And the reality is that we were not really serious about selling the car, but after 13 years and several other projects on the go which are closer to completion, we have to face facts and seriously put the car up for sale.

Originally finished in the Aston Martin colour of Crushed Strawberry with Grey trim (find another in that colour combination!), LML/50/80 has a good history file, which contains the factory build sheet complete with colour samples.

The car was originally supplied new to the USA and raced in period on some sprints and hillclimbs by Tip Blume. We actually have in the history file documentation going back to the early 1960's and the car came to us in very original condition - totally complete.

We started prepping the car and got to work on the chassis, installing a proper cage and preparing new aluminium coachwork - we spent about £16,000 on this work. We know these cars well and after the success Adrian had with his very hot DB2/4 racecar 30 years ago - we had some plans to build something which would be able to mix it at the sharp end of the grid.

Today we are more committed to letting the car go and see 4 options for a prospective buyer:

OPTION 1 - Our preferred option - get us to build it to Works DB2 Lighteight Team Car specification - a convincing option for a Mille Miglia Entry and a financial proposition that stacks up.

We have put a teaser of the spec below:

- Totally rebuilt throughout this car would be fitted with larger limited slip 4HA axle as is it the desired option (ratio free). Standard gearbox (4 speed David Brown).
- Fully rebuilt 3 litre engine (standard 2. 6 litres, works cars 3 litres) with new strengthened block, steel crank and rods, solid cheese, alloy cylinder head, large valves, triple 40 DCOE Webbers, high capacity oil pump, uprated clutch assembly. Fully balanced and gas flowed.
- Uprated alloy radiator and oil cooler, electric fan assembly.
- Standard steering box set up.
- Alloy fuel tank foam filled.
- Roll cage (chassis mounted and 4 point harnesses – FIA approved).
- Choice of period seats or modern race type seats.
- Uprated suspension with lowered and stiffened springs and anti roll bar.
- Negative chamber.
- Uprated drum brakes and uprated master cylinder twin systems.
- Twin exhaust system (single standard).
- Lightweight alloy doors, Perspex windows (as works) Le Mans type boot lid and pit signaling light. Deep air dam to bonnet as per works car.
- Could be rebuilt replicating the works car and finished in deep British racing green with roundels to the body.

OPTION 2 - Get us to rebuild it to it's standard factory build specification. It can be assured that in Crushed Strawberry - it would be the only example of that colour on any event and a guaranteed entry to many events!

OPTION 3 - Buy it as is and embark on the restoration yourself. All sensible bids will be considered and we have all of the bits which have been removed from the car..

OPTION 4 - Get us to build you a retromod! Forget Singers and Eagles or Tesla powered DB5's! Using the original engine we could build you a 250 BHP+ road/track car with all modern amenities but period looks - or let your imagination run wild with an M3 S54 running gear - like some DB5 stunt cars built for some recent 007 films! The idea of a 350 BHP + 8000 rpm screamer in a beautiful 1950 DB2 body would upset a lot of purists and some silly bewinged moderns!

Either way - we are keen to see this special car find a new home - just don't ask us to put a Tesla motor in it!
Mostra di più
Mostra di meno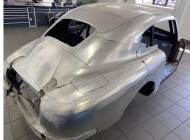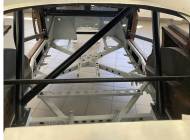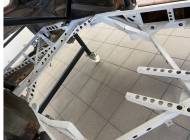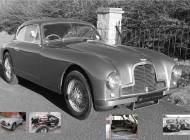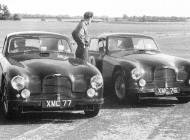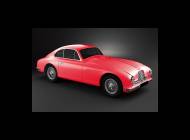 Note legali della concessionaria
Adrian Johnson
10 Pool Business Park Pool Road
LS21 1FD Leeds
+44 113 284 3666
Venditore
Route
Pool Business Park, Pool Road 10

LS21 1FD Leeds, Otlay
Pool Business Park, Pool Road 10

LS21 1FD Leeds, Otlay
Pool Business Park, Pool Road 10

LS21 1FD Leeds, Otlay
Pool Business Park, Pool Road 10

LS21 1FD Leeds, Otlay
Caricamento...
Caricamento...