1979 | Deetype D-Type
Rare Jaguar Type D replica aluminium 1979 - n°12/25 - Appraised and guaranteed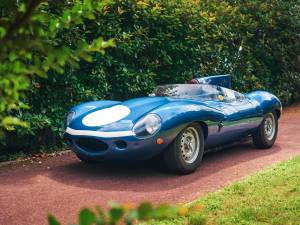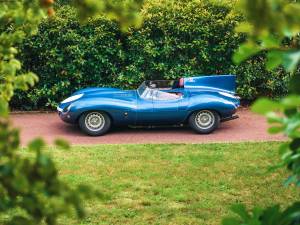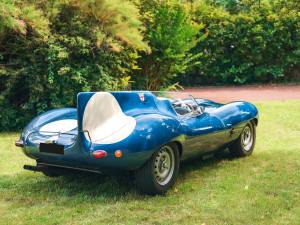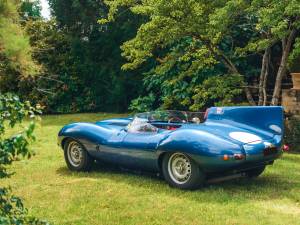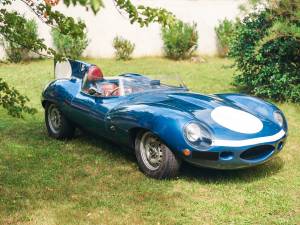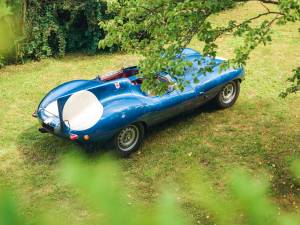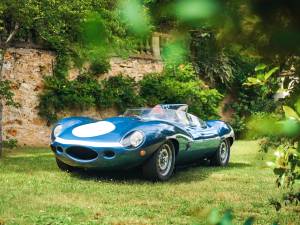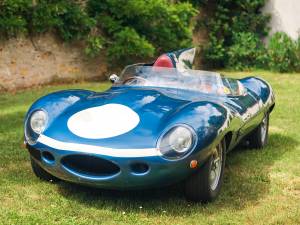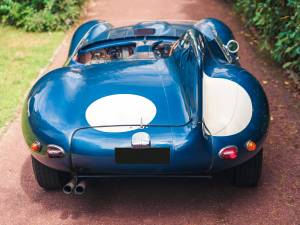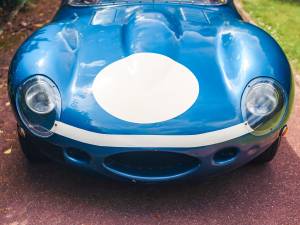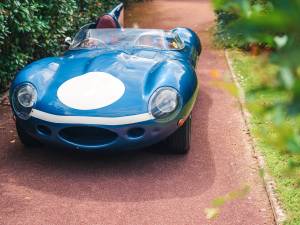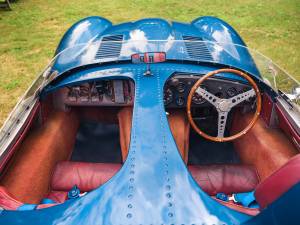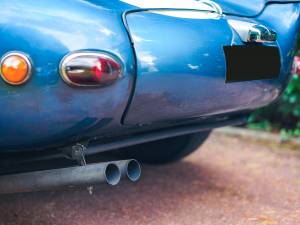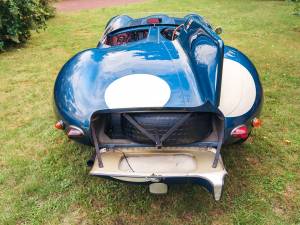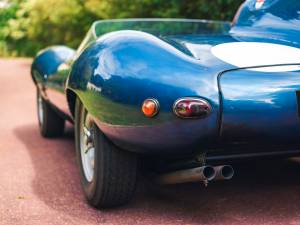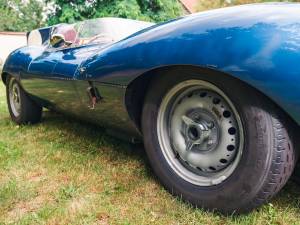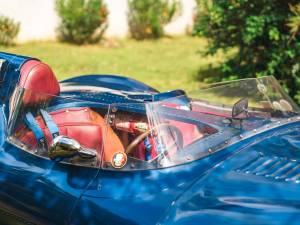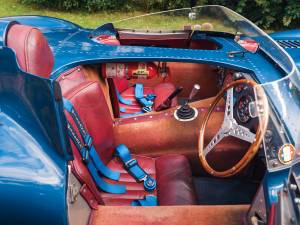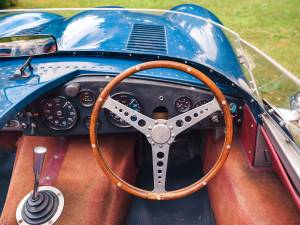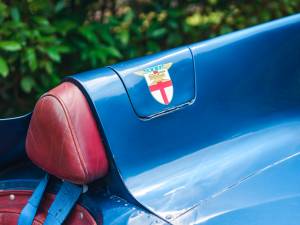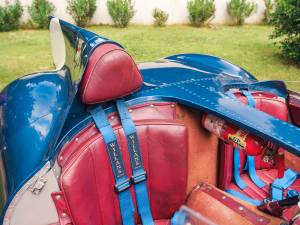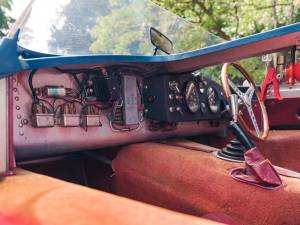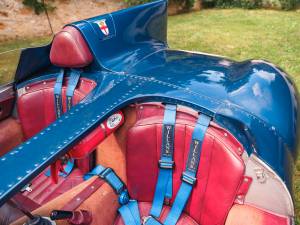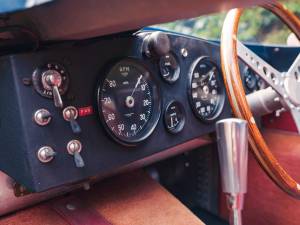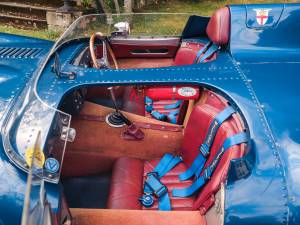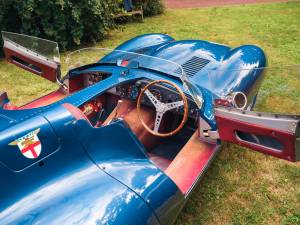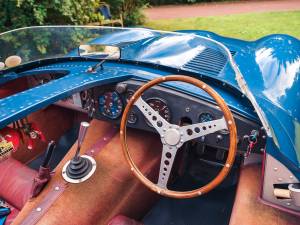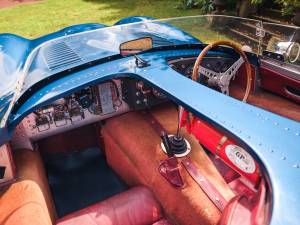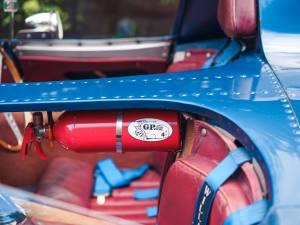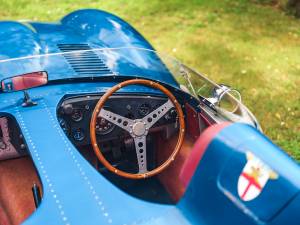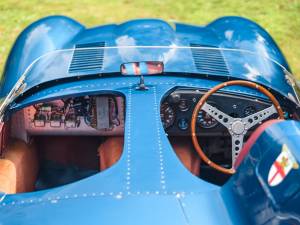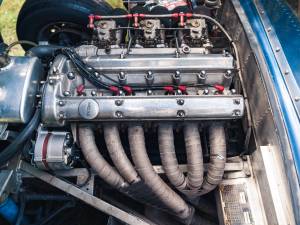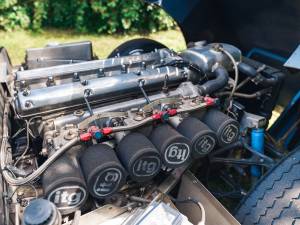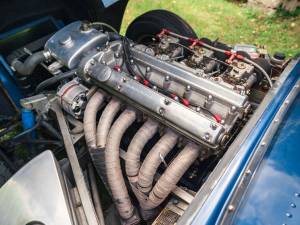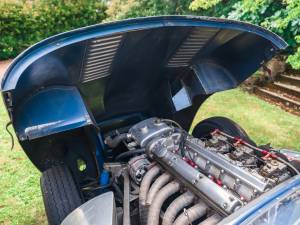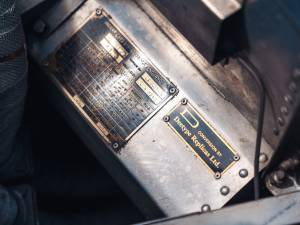 1979 | Deetype D-Type
Rare Jaguar Type D replica aluminium 1979 - n°12/25 - Appraised and guaranteed
1979 | Deetype D-Type
Rare Jaguar Type D replica aluminium 1979 - n°12/25 - Appraised and guaranteed
Rare Jaguar Type D replica aluminium 1979 - n°12/25 - Appraised and guaranteed
Rare Jaguar Type D replica from Bryan Wingfield (Deetype Replicas Ltd.)
Jaguar 6 cylinders - 4235 cm3 - 300 ch - 22 CV
4-speed mechanical gearbox
Blue exterior - Red leather upholstery
Mileage : 26745 Miles
Chassis number : 201467B/W
Type : 38 sport
Expertise available on request.
Those in the know will recognise the striking resemblance to the Ecurie Ecosse D-Type Jaguars that won Le Mans in 1957. This example, which is directly inspired by them, is one of the few models (25 in total) to have been built by Bryan Wingfield (Deetype Replica Ltd.). Bryan Wingfield's creations are recognised as being the closest to the original model, allowing his few customers to share the sensations felt by the drivers of the 1950s.
This D-Type was built in 1979. It arrived in France in 2003 and was bought by the current owner in 2007.
The all-aluminium bodywork and the Jaguar 4.2 engine powered by three Weber 45DC0E13 carburettors are in excellent condition. The expert indicates that the red upholstery has a nice patina. The car presented is ready to take to the road and to participate in historic races.
Equipment :
Aluminium bodywork,
Three Weber 45DC0E13 carburettors,
Aluminium expansion tank,
4 piston calipers at the front,
Salisbury rear axle.
Documents :
French vehicle registration document,
Certificate of administrative status,
MOT,
Recent expertise report.
Car visible near Palaiseau (91).
3 months mechanical warranty included. Possibility of delivery.
Contact us for more information.
More cars visible on CarJager.com
TRANSLATE with x English ArabicHebrewPolish BulgarianHindiPortuguese CatalanHmong DawRomanian Chinese SimplifiedHungarianRussian Chinese TraditionalIndonesianSlovak CzechItalianSlovenian DanishJapaneseSpanish DutchKlingonSwedish EnglishKoreanThai EstonianLatvianTurkish FinnishLithuanianUkrainian FrenchMalayUrdu GermanMalteseVietnamese GreekNorwegianWelsh Haitian CreolePersian TRANSLATE with COPY THE URL BELOW
BackEMBED THE SNIPPET BELOW IN YOUR SITEEnable collaborative features and customize widget:Bing Webmaster PortalBack
Ajouter au lexique - Aucune liste de mots pourAllemand → Français...
Créer une nouvelle liste de mots...
Copier
Vehicle data
Make

Deetype

Model

D-Type

First registration date

01/1979

Year of manufacture

1979

Mileage (read)

26,745 mls

Chassis number

Not provided

Engine number

Not provided

Gearbox number

Not provided

Matching numbers

No

Previous owners

Not provided
Technical details
Body style

Convertible (Roadster)

Power (kW/hp)

221/300

Cubic capacity (ccm)

4235

Cylinders

6

Doors

2

Steering

Right (RHD)

Gearbox

Manual

Gears

4

Transmission

Rear

Front breaks

Disc

Rear breaks

Disc

Fuel type

Petrol
Exterior color

Blue

Sun roof

No

Folding roof

No

Power Assisted Steering

No

Central locking

No

Electric windows

No

Interior color

Red
Interior material

Leather

Heated seats

No

Air conditioning

No

ABS

No

Airbag

No

Cruise control

No
Condition, registration & documentation
Condition category

Original

Has Report

Condition

MOT
Historical license plate

Registered

Ready to drive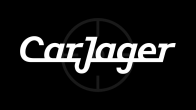 CarJager
CarJager ARNAGE MOTORS
2A Pl. Jeanne d'Arc 1er étage, 13100 Aix-en-Provence
13100 Aix-en-Provence
🇫🇷 France
More vehicles from CarJager