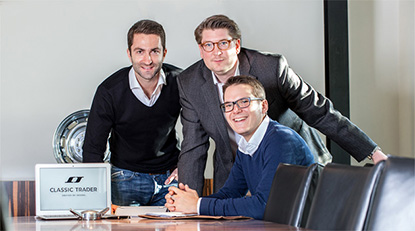 The international marketplace for classic vehicles.
On its website www.classic-trader.com the correspondent company Classic Trader (GmbH) provides the first international market place for the purchase and sale of classic vehicles on the internet. Classic Trader does not limit its services to dealing with classic cars but also addresses consumers and sellers who are interested in classic vehicles, tractors, motorcycles, airplanes and boats.
Those who always wanted to obtain the highest level of transparency concerning the world wide classic cars market had to consult various sources – starting off with research in local retail markets, and ending up with searching in a small web portal and specific magazines. Looking for information about prices, running costs and transport facilities is an additional burden for potentially interested buyers.
Classic Trader responds to the necessity of more transparency on the international marketplace for classic cars, and also represents more security in terms of purchase transaction for a fast and accurate finding, as well as the emotional presence of classic vehicles that is demanded by sellers and interested buyers.