1968 |

Alfa Romeo 1750 GT Veloce
FIA Certificate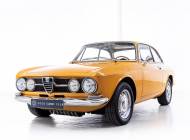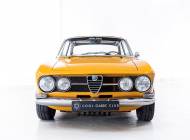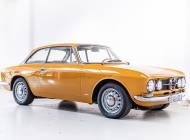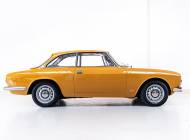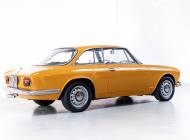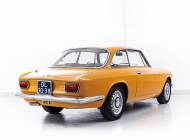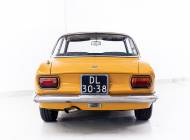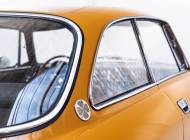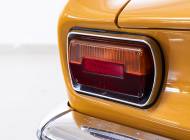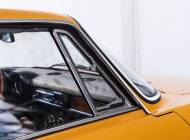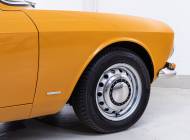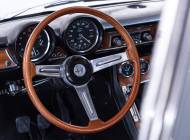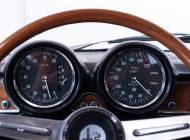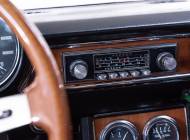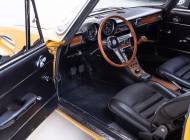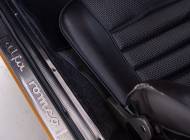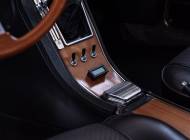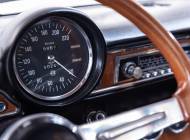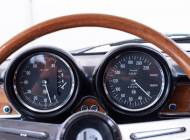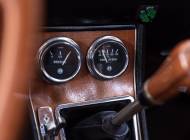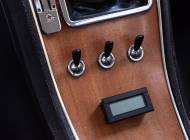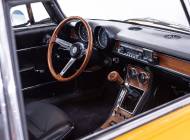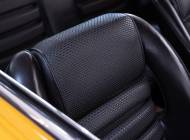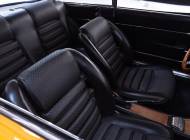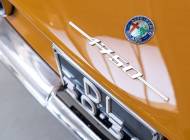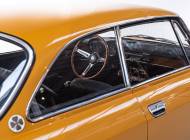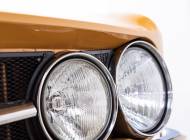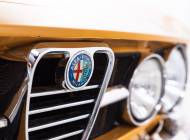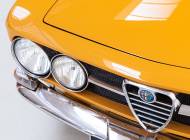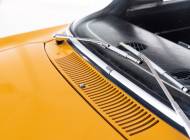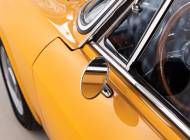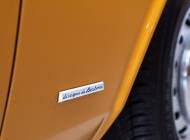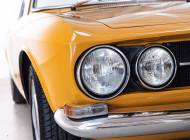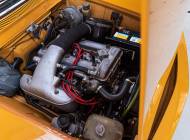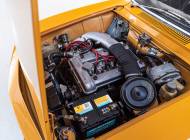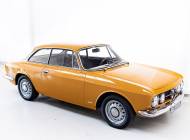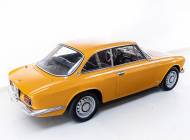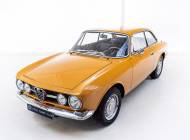 1968 |
Alfa Romeo 1750 GT Veloce
FIA Certificate

Vehicle details

Vehicle data

| | |
| --- | --- |
| Make | Alfa Romeo |
| Model | GTV |
| Model name | 1750 GT Veloce |
| Series | Tipo 105 |
| Year of manufacture | 1968 |
| Report | 9 |
| Condition category | Original |
| Mileage (read) | 40,241 km |
| First registration | 06/1968 |

Technical details

| | |
| --- | --- |
| Body style | Coupe |
| Body detail | Coupe |
| Power (kw/hp) | 88/120 (Factory: 113 hp) |
| Cubic capacity (ccm) | 1,779 |
| Cylinders | 4 |
| Doors | 2 |
| Steering | Left (LHD) |
| Transmission | Manual |
| Gears | 5 |
| Drive | Rear |
| Front Brake | Disc |
| Rear Brake | Disc |
| Fuel | Petrol |

Individual configuration

| | |
| --- | --- |
| Exterior colour | Yellow |
| Manufacturer colour name | Giallo Ocra |
| Interior colour | Black |
| Interior material | Leather |
Description
English / German below
Congratulations to all who take their passion to the highest level. La meccanica delle emozioni ! - Alfa Romeo
Bijzondere auto's blijven je altijd bij, vooral die eerste ontmoeting. Op een vroege morgen aan het meer in Laveno, Italie startte onze buurman iets wat pruttelde, een snerp had en met -best wel wat- blauwe rook tot leven kwam. De 1750 GTV van de 105-tak in de Alfa stamboom. Tot op de dag van vandaag, één van de mooiste coupés ooit gemaakt vinden wij. Het lijnenspel wat niks te veel is, maar wel beeldschoon. Geen toeters en bellen, maar wel de belangrijke dingen wat extra geaccentueerd. Van de liefhebber voor de liefhebber.
Het weggedrag van de 1750 GTV is ook precies wat je verwacht van een legendarische Romeo. Strak op de weg, veel contact met het asfalt en het duwen in de onderrug door de achterwielaandrijving. Wanneer je 'olio' meter in het midden staat, komt daar het geluid bij. Want wat is dat toch goed! Tussen de 5- en 6 duizend toeren rijdt ze het lekkerst, klinkt ze het gezondst en zodra je het gas loslaat; preciés genoeg naverbranding. Geen DSG-geknetter van de moderne VW Golfjes, maar het échte naverbranden. Je voelt je borsthaar groeien bij iedere keer terugschakelen!
Die van ons is uitgevoerd in het Giallo Ocra en is nog volledig origineel en onverpest. Het FIA certificaat zit erbij, wat betekent dat de tour- en rallyritten allemaal gereden kunnen worden met deze machine voor puristen. De afgelopen 15 jaar is ze nauwelijks gereden en wij hebben haar ontdaan van het stof. Ze is weer klaar voor veel smiles a litre.
Ci vediamo presto?
--
Congratulations to all who take their passion to the highest level. La meccanica delle emozioni ! - Alfa Romeo
Special cars always stay with you, especially that first encounter. One early morning at the lake in Laveno, Italy, our neighbor started something that simmered, had a scuffle, and came to life with - quite a bit of - blue smoke. The 1750 GTV of the 105 branch in the Alfa family tree. To this day, one of the most beautiful coupés ever made, in our opinion. The interplay of lines which is nothing too much, but beautiful. No bells and whistles, but the important things are accentuated. From the lover for the lover.
The handling of the 1750 GTV is also exactly what you expect from a legendary Romeo. Tight on the road, lots of contact with the asphalt, and pushing in the lower back through the rear-wheel drive. When your 'olio' meter is in the middle, the sound is added. What a good thing that is! Between 5 and 6 thousand rpm, she rides best, sounds healthiest, and as soon as you release the throttle; preciés enough afterburning. No DSG crackling of the modern VW Waves, but the real afterburn. You can feel your chest hair grow every time you switch back!
Ours is executed in the Giallo Ocra and is still completely original and undamaged. The FIA certificate is included, which means that the tour and rally rides can all be driven with this machine for purists. It has barely been driven in the last 15 years and we have stripped it of the dust. She is ready for a lot of smiles a litre again.
Ci vediamo presto?
--
Herzlichen Glückwunsch an alle, die ihre Leidenschaft auf das höchste Niveau bringen. La meccanica delle emozioni ! - Alpha Romeo
Spezielle Autos bleiben immer bei Ihnen, besonders bei der ersten Begegnung. Eines frühen Morgens am See in Laveno, Italien, begann unser Nachbar etwas, das köchelte, ein Handgemenge hatte und mit - ziemlich viel - blauem Rauch zum Leben erwachte. Der 1750er GTV des 105er Zweiges im Alfa-Stammbaum. Bis heute eines der schönsten Coupés, das je gebaut wurde, finden wir. Das Wechselspiel der Linien, das nicht zu viel, aber schön ist. Kein Schnickschnack, aber die wichtigen Dinge etwas stärker betont. Von der Geliebten für die Geliebte.
Auch das Fahrverhalten des 1750 GTV ist genau das, was man von einem legendären Romeo erwartet. Dicht auf der Straße, viel Kontakt mit dem Asphalt und Einschieben des unteren Rückens durch den Hinterradantrieb. Wenn sich Ihr 'Olio'-Meter in der Mitte befindet, wird der Ton hinzugefügt. Was für eine gute Sache das ist! Zwischen 5 und 6 Tausend Umdrehungen pro Minute fährt sie am besten, klingt am gesündesten und sobald man das Gaspedal loslässt; preciés genug Nachverbrennung. Kein DSG-Knacken der modernen VW-Wellen, sondern der echte Nachbrenner. Sie spüren, wie Ihr Brusthaar jedes Mal wächst, wenn Sie zurückschalten!
Unsere wird in der Giallo Ocra ausgeführt und ist noch völlig original und unbeschädigt. Das FIA-Zertifikat ist im Lieferumfang enthalten, was bedeutet, dass die Tour- und Rallyefahrten für Puristen alle mit diesem Gerät durchgeführt werden können. In den letzten 15 Jahren ist er kaum geritten worden, und wir haben ihn vom Staub befreit. Sie ist wieder bereit für eine Menge Lächeln pro Liter.
Ci vediamo presto?
Show more
Show less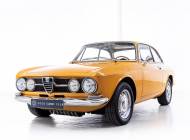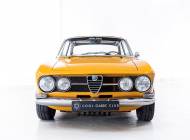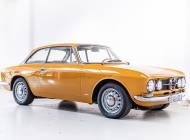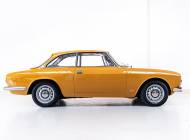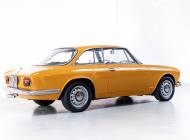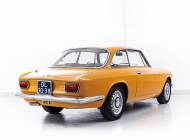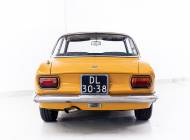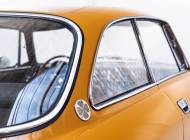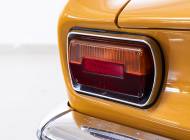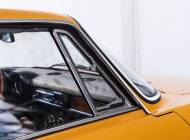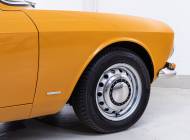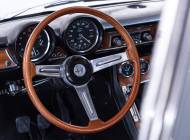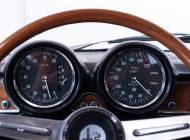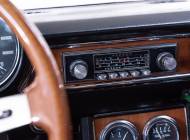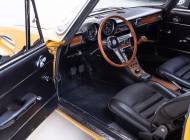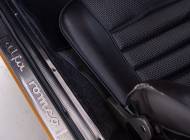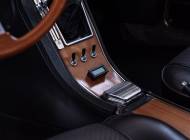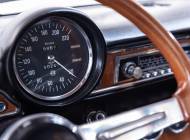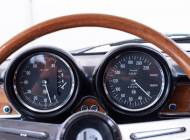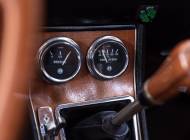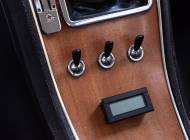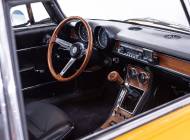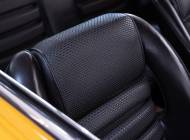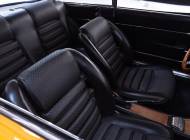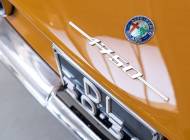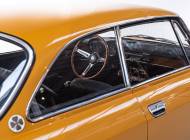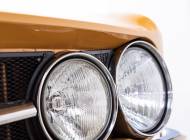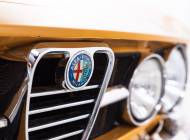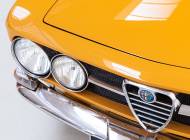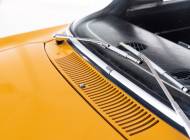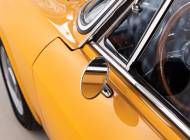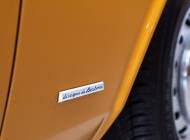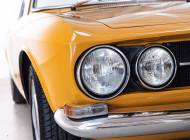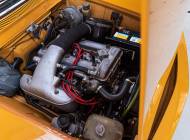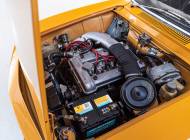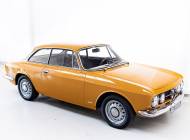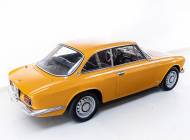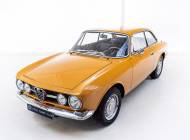 Condition & Registration

| | |
| --- | --- |
| Note (Condition) | 9 |
| Report provider | Cool Classic Club |
| MOT | |
| FIA | |
| Registered | |
| Ready to drive | |
| Accident-free | |

| | |
| --- | --- |
| Vehicle-ID: | 253979 |
| Dealer Vehicle-ID: | 003 |
Dealer-Imprint
Cool Classic Club
Energiestraat, 3
1411AN Naarden
+31 35 203 1753
Thies Maessen
Seller
Route
Energiestraat, 3

1411AN Naarden
Energiestraat, 3

1411AN Naarden
Loading...
Loading...