The Dino 206/246 Buying Guide – The baby Ferrari that had to earn its name

The Dino 206/246 has long been considered a true Ferrari and a very desirable classic, but things were not always so clear-cut for the first V6-powered road-going sportscar to be built at Maranello.
Few would consider the Dino anything but a proper Ferrari these days, but back in the 1960s the mere thought of putting a prancing horse badge on a road car not sporting a big V12 under its bonnet was unthinkable. 
Sure, Ferrari had built a number of racing prototypes in a V6 configuration but fitting one to a road car was just not on the cards. Well, not until Formula 2 Monoposto (single-seater) racing regulations required that racing engines had to be production-based and at least 500 built each year. 
Such volumes meant that Ferrari had to strike up an alliance with Fiat which would fit slightly detuned variants of the same engine into their Fiat Dino Spyder and Coupé. And that is how the Dino 206 GT was born, the first cars were intentionally marketed without any Ferrari badges in an attempt to differentiate the 'real' V12 Ferraris from this entry-level offering, but it was soon clear that this very light aluminium bodied sports car was a Ferrari in everything but name.

The 2.0-litre 178bhp engine provided eager if not exactly thrilling performance and just 152 LHD units were produced between 1967 and 1969. At this point the Dino 246 GT was introduced with a more powerful 192bhp 2.4-litre V6 engine (175bhp for US-spec cars). This helped improve the acceleration figures despite a higher kerbweight, thanks to the body now being made from steel to save on production costs. A targa top GTS model joined the GT in 1972 and these variants stayed in production until 1974.
While they are referred to as Ferrari Dinos these days, the Ferrari name was never officially used for these cars. The sales brochure called it, 'Tiny, brilliant, safe…almost a Ferrari'. The Dino certainly was brilliant and the driving experience was streets ahead of many V12 Ferraris of its era. Those Pininfarina-designed curves have aged beautifully and the Dino has since taken its rightful place among Ferrari's most coveted models.

Dino 206/246 Engine and gearbox
The 65-degree V6 was initially developed for Ferrari's racing program and featured twin overhead cams and electronic ignition. 2.0-litre engine blocks were made out of aluminium while the 2.4-litre units were made of cast iron.
Regular servicing and frequent oil changes (every 3000-miles) are vital, valve clearances need to be checked too, which is a less labour-intensive job on 2.4-litre cars. 
The Dinoplex ignition system can be troublesome, so it is best to use a knowledgeable classic Ferrari specialist here. A smoky exhaust could indicate worn valve guides or pistons. 
Two timing chains were used on these engines. These are less troublesome than the cam belts on many Ferrari V8s, but be wary of noisy and under-tensioned chains, as they could spell big repair bills.
A five-speed manual transmission was used on all variants, second gear is recalcitrant when cold, it is a pre '90s Ferrari after all. Shifts should be crisp and direct once the gearbox is warm, sloppy shift quality or crunching gears may indicate that a rebuild is imminent. Parts are still available at a price.

Dino 206/246 Suspension and Brakes
The ventilated all-disc brake setup has no inherent faults, but check for seized calipers and warped discs on stored cars. 
The suspension setup is relatively a standard affair and the usual age-related issues tend to be the only things to look for. If the car does not feel planted and responsive to steering inputs, then have a good luck underneath for worn bushes and shocks. 
The original 14-inch wheels are expensive and hard to find used, later cars had wider rims.

Dino 206/246 Bodywork and interior
Rust is the biggest nemesis of the Dino, otherwise pristine-looking cars can hide all manner of evils underneath their seductive bodywork. 
Values have been high for some time now so ground up restorations are far more common, but a very comprehensive inspection of any potential purchase should be carried nonetheless. 206 GTs were all aluminium while the 246 models were steel bodied with aluminium doors and bonnets.

Retrims are common as the interior of all but the most pampered cars will be showing noticeable wear by now. Vinyl was the default factory trim but leather is a popular alternative.
The electrics are not a Dino strong point so check that gauges, windows and buttons are all working as they should.

Model History Of The Dino 206/246
1967:   Dino 206 GT goes on sale powered by 178bhp 2.0-litre V6 and five-speed manual transmission. Just 152 cars built, all LHD
1969:   206 GT replaced by more powerful 246 GT. Power up to 192bhp courtesy of larger 2.4-litre V6 engine
1970:   RHD production starts
1972:   246 GTS is introduced featuring removable targa top and identical mechanicals to 246 GT
1974:   Dino production comes to an end with just over 4000 of all variants built, 488 GT and 235 GTS models imported into the UK in total

Which Dino 206/246 To Buy
The Dino has gone from a budget 'almost Ferrari' to a highly regarded Maranello thoroughbred over the years. Many years of indifference and low values have thinned out its ranks and original examples are now extremely valuable.
The rare and short-lived 206 GT models command the highest prices. Low-mileages, matching numbers and originality all help boost values even further. The vast majority of cars offered in the UK are 246 GT and GTS models, many have been fully restored and the days of finding rusty cars with shoddy mechanicals and tatty interiors are long gone.
That said, not every restoration is carried out to the same high standard so be sure to inspect the service history and get a specialist to give the car a thorough once-over before committing.

Dino 206/246 Specifications
2.0-litre V6
Power:             178bhp
Top speed:      140mph
0-60mph:         7.5sec
Economy:        25mpg est.
2.4-litre V6
Power:             192bhp
Top speed:      146mph
0-60mph:         7.1sec
Economy:        25mpg est.
Text John Tallodi  Photos Ferrari, Girardo & Co, P.J. WALLMAN
Related Posts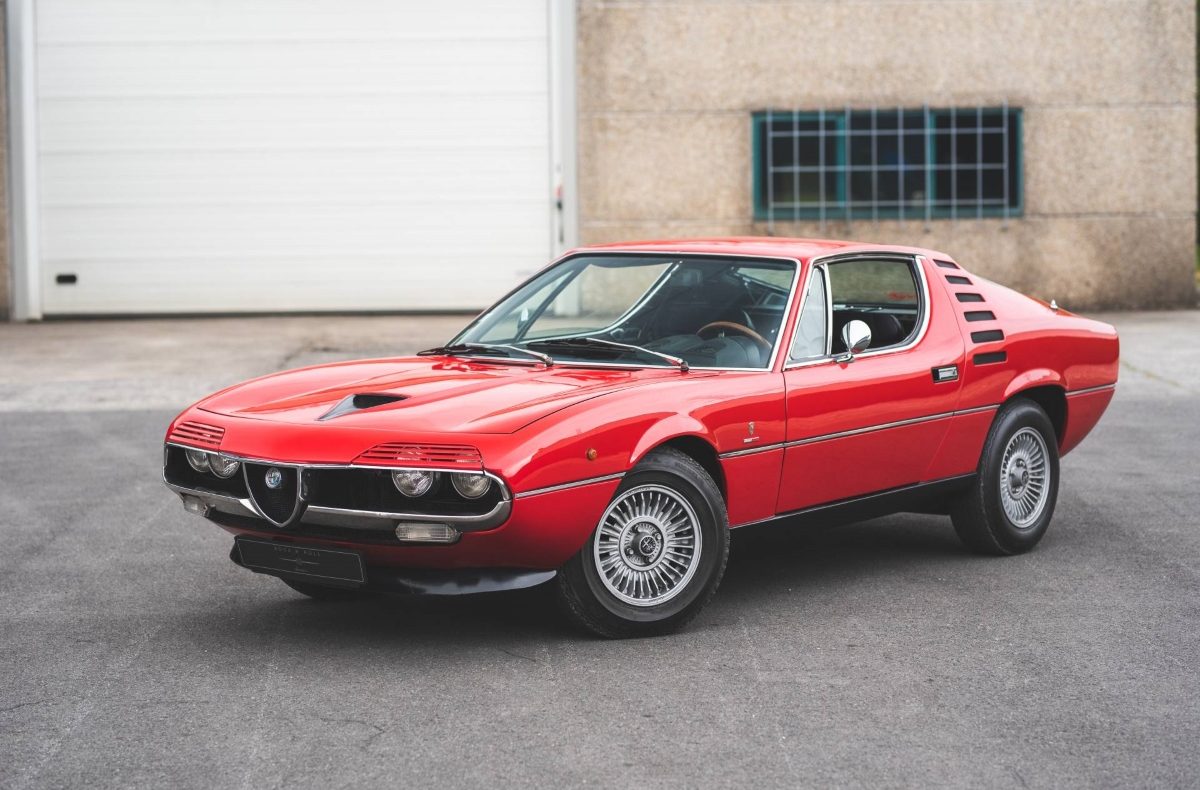 A classically styled Italian V8 with looks that stop traffic, the Alfa Romeo Montreal is a rare delight that is still a sublime drive on the right roads.