The Alfa Romeo Montreal Buying Guide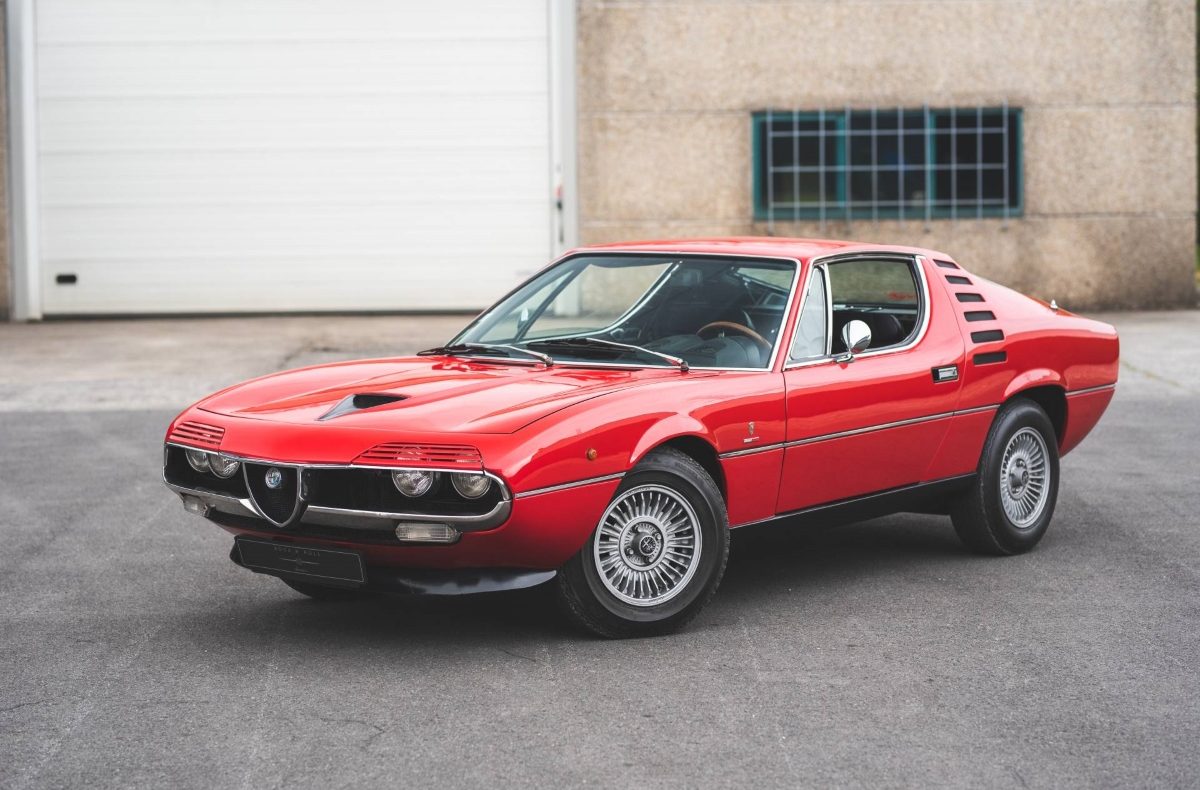 A classically styled Italian V8 with looks that stop traffic, the Alfa Romeo Montreal is a rare delight that is still a sublime drive on the right roads.
Shown to the public as an unnamed concept car at the Montreal expo in 1967, the Montreal name was apparently given to the car by the visitors to Alfa's stand.
The production version that finally saw light of day in 1970 differed from the show car in many respects, not least of which was the sports car derived 2.6–litre V8 instead of the 1.6–litre Giulia motor originally installed in earlier prototypes. The Bertone styled body was curvy in all the right places and looked suitably exotic to compete with the established sports car players.
An overly complex production sequence pushed the price of the Montreal above some of its logical rivals though and Alfa Romeo's decision not to get the car certified for US sales meant that total production numbers remained low, at just over 3900 with only 180 of those made in RHD. Italian labour disputes and the 1973 OPEC embargo all limited demand and while this was a problem in the '70s what it means today is that the Montreal has become a rare and desirable car.
Alfa Romeo decided to develop a bespoke V8 engine for the Montreal, derived from its Type 33 racing prototype. This 2.6 litre V8 produced close to 200bhp and revved and sounded like a thoroughbred sports car.
Power steering was not an option so low speed manoeuvring will require some effort. Some cars did come fitted with air conditioning units and the general interior ambience is one of luxury and quality. Handling kits were made available after production ceased, improving cornering and reducing understeering tendencies at the limit.

Alfa Romeo Montreal V8 engine
Air intakes to the engine were originally rubber-coated fabric, which become brittle with age. Modern replacement hoses can be used in their place.
The V8 engine is generally robust, however one of its major weakness is the bearing that supports the idler shaft driving the water pump impellers. Failure of the bearing usually also results in the front seals failure as well. This can usually be detected by checking for water and oil mixing in the oil reservoir. Bearings are cheap but replacing them is labour intensive so check this out before you buy. Excessive play in the cam chain may also indicate a failing water pump bearing.
The preventative measure of allowing the car to warm up before giving it the beans can extend the bearings' life. There are 11 litres of oil to heat up so this will take a bit of time.
The SPICA mechanical injection fuelling system is a complex unit and regular maintenance is essential to ensure that it functions correctly. There are a few specialists around who can carry out refurbishments to these units but it is a pricey job. It is worth spending some time in getting familiar with this set-up to ensure that it is running as intended.
Checking the Alfa Romeo Montreal 

Gearbox
Gearboxes are strong ZF units. The reverse idler shaft has a tendency to wear out prematurely but other than that they give little trouble. Minor leaks are quite common and unless a large pool of oil forms under your car after every drive this should not be a concern. Regular top-ups are recommended every 4000 miles with an oil change every 12,000 miles.
Suspension and brakes on the 

Alfa Romeo Montreal
Despite eschewing an independent rear suspension layout for a more conventional live axle, the Montreal should feel well-planted around bends and over rough tarmac. Worn suspension bushes, shocks and springs show up in sloppy responses to direction changes and handling kits are available for those who want to further improve on the car's handling balance.
Alfa Romeo Montreal 

Bodywork and interior
Sound insulation material on the body panels and floor pans can absorb moisture and cause rust over time. Some of the main problem areas are below the C-pillar ventilation slats. Check the car over thoroughly to ensure that it is water tight as replacement panels are almost impossible to source and repairs will not be cheap.
It offers four seats and a luggage compartment, but – or perhaps because of it – the Montreal is tiny inside. The rear seats add a dash of practicality however they are intended more for additional luggage space, hinted at by the luggage straps that came with each car. Trim pieces are very difficult to come by although it is easy enough to have the seats recovered seats if they have cracked or worn out.
Alfa Romeo Montreal 

Model History
1970: Alfa Romeo Montreal launched. Front spoilers added after first 100 vehicles built
1971: Reinforced pistons phased in
1972: Engine emissions improved with updated distributors and injectors. Minor front suspension modifications
1973: Upgraded brake servos, con rods, master cylinders and structural body changes introduced. No visual changes to exterior of cars
1975: Last car manufactured however the Montreal is still available as new from dealer network
1977: Official production run ends with final stock of Montreal sold with 3917 units made in total.
Which 

Alfa Romeo Montreal

To Buy
The Montreal was mostly unchanged during its production run, low volumes and limited funding for development saw to that. The majority of changes were minor modifications to the running gear (many of which have been added to earlier cars over the years) so look at condition and maintenance history rather than a specific model year. Originality also boosts values but sympathetically upgraded cars can be great to drive.
Alfa Romeo ownership is very rarely a boring experience. These cars were built with a combination of passion and disregard for complexity that will at times both delight and frustrate you. That said, a well-cared for Montreal should prove no less reliable than other classics from the same era and the sound from that rev-happy V8 and those gorgeous looks will never get old.

Alfa Romeo Montreal 

Specifications
2.6-litre V8
Power: 197bhp
Top speed: 137mph
0-60mph: 7.6sec
Economy: 20 mpg
Text John Tallodi  Photos FCA Heritage, Rock 'n Roll Classics, ChromeCars
Related Posts

France has a lot to offer in addition to wine, baguettes and the Eiffel Tower – and the other highlights undoubtedly include French classic cars. It's no coincidence that the world's oldest automobile manufacturer – Peugeot – is based in France and has been producing automobiles in series since 1891. Continue reading French Classic Cars →