1929 | Alfa Romeo 6C 1750 Super Sport / Gran Sport / TF
1929 Alfa Romeo 6C-1750 Testa Fissa 'Stiles Threesome' Spider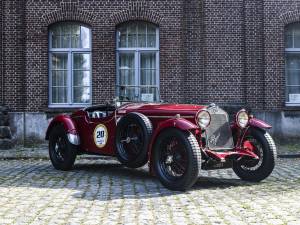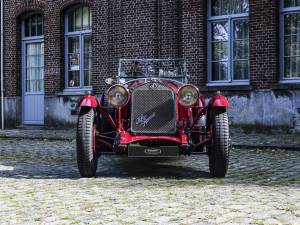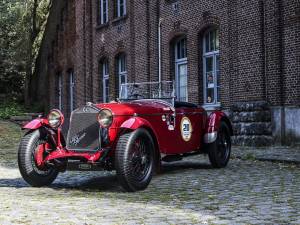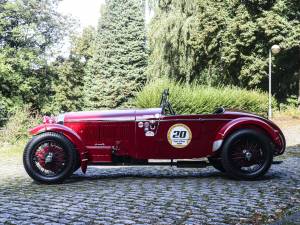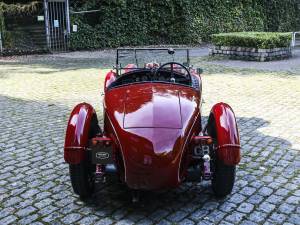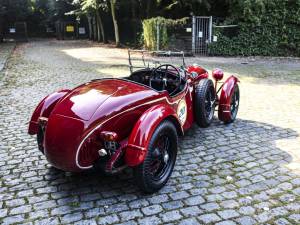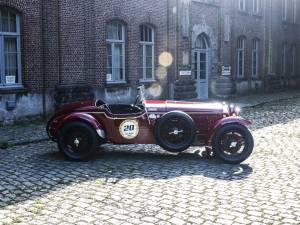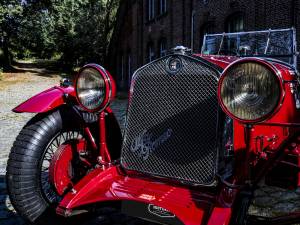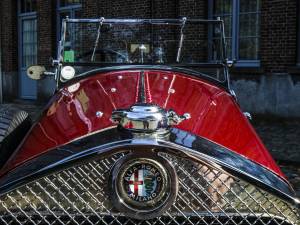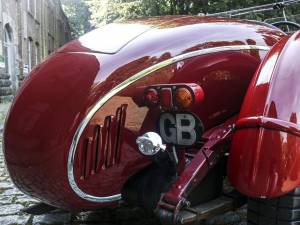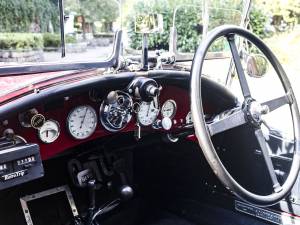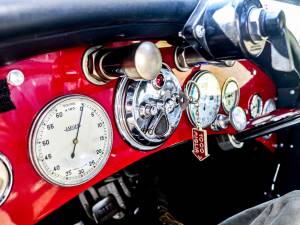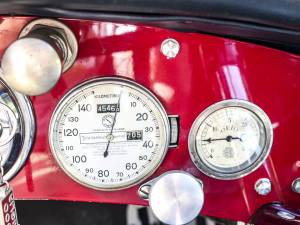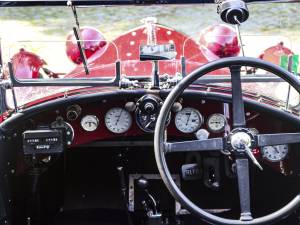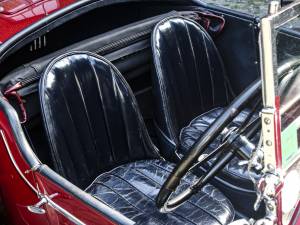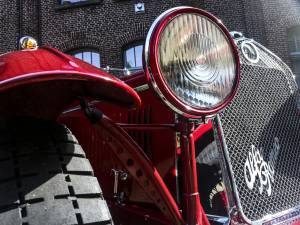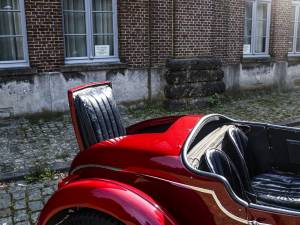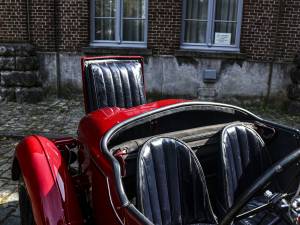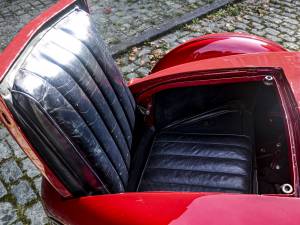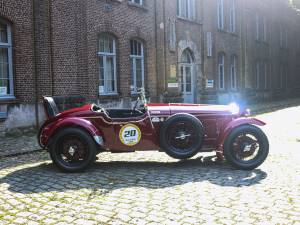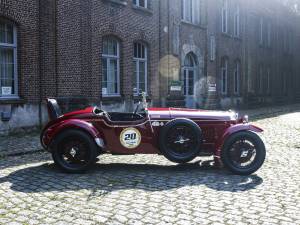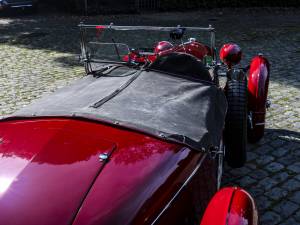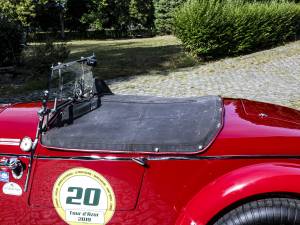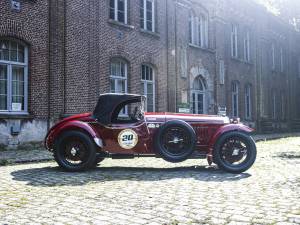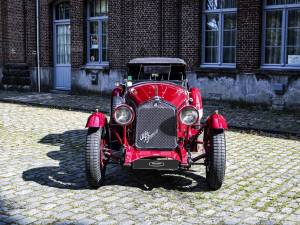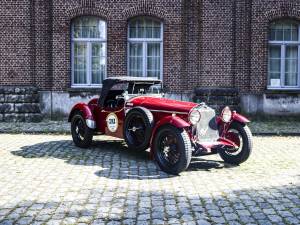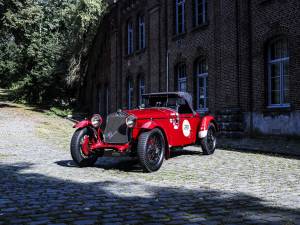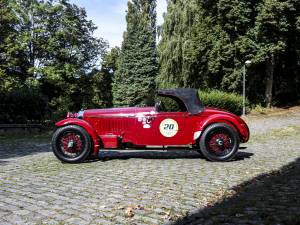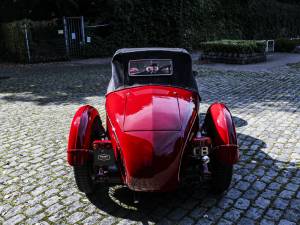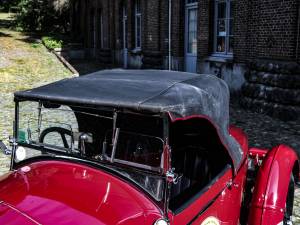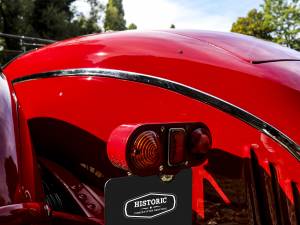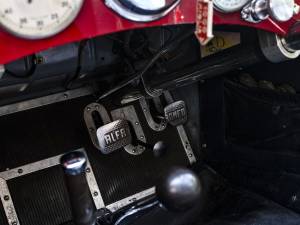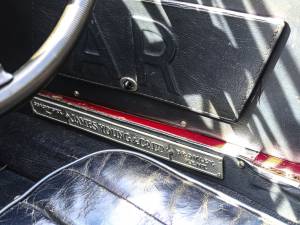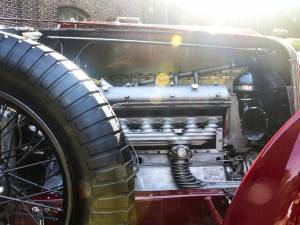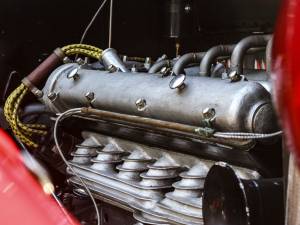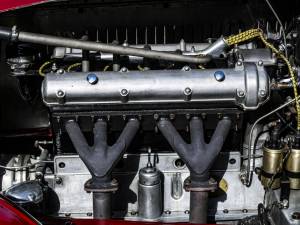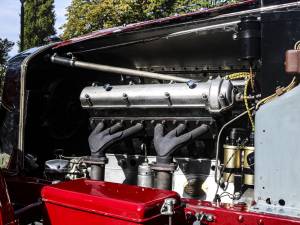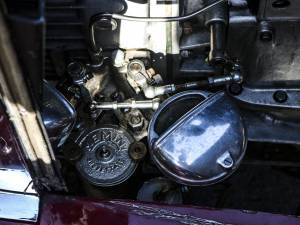 1929 | Alfa Romeo 6C 1750 Super Sport / Gran Sport / TF
1929 Alfa Romeo 6C-1750 Testa Fissa 'Stiles Threesome' Spider
1929 | Alfa Romeo 6C 1750 Super Sport / Gran Sport / TF
1929 Alfa Romeo 6C-1750 Testa Fissa 'Stiles Threesome' Spider
Alle Services zu diesem Fahrzeug
The Ex-Fred Stiles "1930s British Alfa Romeo Concessionaire"
Registration: FGU 108
Chassis Nr. See text
Engine Nr. 10814381
Unique Alfa Romeo 1750 Testa Fissa with exquisitely well-proportioned and handsome 'Stiles Threesome' bodywork by the leading British coachbuilder, James Young Ltd,
Not only a well-known car upon the British Vintage motoring scene, it has also been in the past ownership of a leading British 'Vintagent' and noted Alfa Romeo restorer for no fewer than 47 years.
One Of what are understood to be only 12 original Testa Fissa – 'Fixed head' – Alfa Romeo 6C-1750 Engines known to have been manufactured, three were dispatched from Italy to England to compete in the 1930 RAC Tourist Trophy race at Ards in Northern Ireland. These cars were to be driven by the three towering Italian superstar racing drivers of the period; Tazio Nuvolari, Achille Varzi and Giuseppe Campari. The cars were entrusted to the contemporary British Alfa Romeo concessionaire Mr. F.W. Stiles of Alfa Romeo (British Sales) Limited, and one of his mechanics – Bernard Arlidge – recalled to 'FGU's previous long term owner that he drove one of these 1750s from Italy without coachwork. F.W. Stiles was the official entrant of these cars in the TT race, and he then had the regulation four-seater coachwork made for the cars, which promptly finished first, second and third – having totally dominated the great race.

The Alfa Romeo factory at Il Portello, Milan, allowed Alfa Romeo (British Sales) Limited up to one year's credit in providing these cars which Fred Stiles was then expected to sell into private hands. This was often done with the car being offered complete with quality sporting coachwork. The TT Alfa Romeo 1750s were powered by the 6-cylinder "Testa Fissa" engines with the cylinder head and block cast in one-piece to avoid any cylinder head sealing problems created by the combination of high temperatures resulting from the exceptional mean effective pressure and special fuels used, not to mention prolonged high-speed demand from those notoriously lead-foot works drivers, particularly Nuvolari and Campari! The Testa Fissas produced an additional 17 bhp (about 20% more power) compared with the Gran Sport engine.

This particular car – 'FGU 108' – is powered by an engine that – in part – might well have begun life as one of those high-performance 1930 TT power units. It was previously thought to have been installed in an un-numbered short-wheelbase (9-foot) chassis frame that F.W. Stiles had in his stores. However, recent investigation of the chassis has revealed that it is stamped with the frame number 0332975. We can confirm that this frame number (not to be confused with the chassis no.) relates to being a 3rd Series Super Sport frame of 1929. It first emerged as a complete Alfa Romeo 1750 'TF' in 1938, when it was first registered in Stiles's own name, receiving its UK road registration and its original buff logbook being issued on 24th September of that year. It would appear that Stiles did not use (or even aware of) the frame number as he used the engine serial number at that time to provide an acceptable 'chassis number' for the completed car.

It then survived the second World War and by February, 1947, was in the ownership of Michael John Palmer, of Pall Mall, London. It then passed to Stubberfield's Garage of St Leonards-on-Sea, and on May 24th, 1950, was registered to leading pre-war racing personality Vic Derrington's tuning business in London Road, Kingston-upon-Thames, Surrey. He appears to have found an eager buyer in Squadron Leader John Kenrick Maw, of New Barnet, Hertfordshire, to whom 'FGU' passed on May 26th
that year. The fourth ownership change listed in this surviving continuation log book is Rowland Smith Motors Ltd of Hampstead High Street, London, in August 1959. A year later it became the property of John Howard Kettel Jefferson of Tewkesbury, Gloucestershire, before passing in April, 1961, to John Harold James of Sudgrove, near Stroud, Glos.

Its previous long-term owner recalls how: "Michael Sedgwick, the curator of the Beaulieu Motor Museum, had seen the car on a petrol station forecourt in Staveley near Chesterfield and told me about it in early 1962. "I drove there and found the car in a sorry state with its hood up…lying in the open. It had no engine. I asked to look at the car and then was told the engine was in the workshop down the street. I recognized the engine just inside the door because it had the words ALFA ROMEO cast into the block. It was in pieces and one of the mechanics showed me the split bore…The car was owned by Mr Turner, the garage proprietor, and I bought the car and broken engine for £100…" – and thereby saved the gem we are now offering here

When originally purchased by its new owner in 1962, the Testa Fissa engine's split bore was believed to be irreparable. Alfa Romeo Testa Fissa block/head units do not have individual serial numbers and in essence can be mated to any 4th or 5th series '1750' crankcase. When originally purchased by the present vendor in 1962, 'FGU's Testa Fissa block was mounted upon a crankcase stamped with the serial number '0312917'. There is some evidence – as per the old style log book - that this was adopted by 'FGU' some ten years previously. A 5th series 1750 Gran Sport engine was then acquired for £200 from leading British Alfisti Bill Summers, and fitted into this chassis, thus enabling 'FGU' to run happily in that form for some twenty years. The Gran Sport engine was serial number '10814381'.

However, a chance meeting with Alfa Romeo's celebrated former design draughtsman and subsequent marque historian Luigi Fusi resulted in the modern-day Alfa Romeo company agreeing to repair the original split block in return for allowing them to have the engine for the purpose of copying it for their company Museum, in Arese, Italy. By 1985 the original block was fully repaired and it was then used to replace that of the Gran Sport engine number'381' in this chassis. The crankcase of engine '0312917' originally acquired with the split block attached, was meanwhile provided to Angela Cherrett, the owner of the appropriate surviving 1930 TT and Le Mans car – Alfa Romeo 1750 and marque authority This restitution was registered with the Licensing authorities on May 2, 1966.

Meanwhile, detailed research into 'FGU's history resulted in a letter from the Hampshire county register of vehicles in England explaining why the car should bear this 1938 London-issued registration number. It had been assembled by Alfa Romeo concessionaire F.W. Stiles upon the Third Series Super Sport chassis, using the Testa Fissa engine and what was described as the 'Stiles Threesome' body – produced by the James Young Coach building company of London Road, Bromley, Kent. It is this high quality body which has always made this such a handsomely proportioned and unusually handsome example of the marque and model.

As the car's previous owner of 47 years – automobile engineer and noted Alfa Romeo restorer David Baylis, observes: "We can surmise that with the second World War approaching, Stiles had these items lying surplus in his stores, and wished to capitalize upon them…". Fred Stiles had by that time been replaced as Alfa Romeo's UK concessionaire by Thomson & Taylor Ltd, of Brooklands, and in effect was intent upon capitalizing as many of his remaining Alfa Romeo effects as possible. Angela Cherrett recalls being told that documentation connected with the car did state "Stiles Special Alfa Romeo built from parts" and that it was first registered in 1938. There is no record of the car in the Alfa Romeo (British Sales) Ltd sales records, but this is perfectly understandable since Fred Stiles plainly assembled the car in later years, and initially for his own personal use.

As a summary, we have identified the following number on the motor car. Frame no. 0332975 (1929 3rd Series Super Sport); Front axle no. 0161721 (1929); Steering box no. 0151179 (1929); Gearbox no. 8143463 (16x28 ratio, 1930 4th Series); Back axle no. 8173246 (11x54 ratio, 1930 4th Series); Engine no. 10814381 (1931 5th Series Gran Sport); Crankcase no. 10824380 (1931 5th Series Gran Sport).

Mr Baylis met former Stiles mechanic Bernard Arlidge in the 1970s, and found that Arlidge remembered Fred Stiles initially using the car – then painted blue, as his regular transport to run to and from his office in Baker Street, London. Writing to the owners listed in the old buff log book which he acquired with the car, Mr Baylis subsequently received a letter from George Baker, of Stubberfield's Garage, St Leonard's-on-Sea, who had owned and raced the car immediately post-war. During this period he had participated with 'FGU' in the inaugural Goodwood Motor Circuit race meeting on September 18, 1948. Competing in the programme's Chichester Cup race he and 'FGU', now offered here, finished sixth.

Many years later, David Baylis and 'FGU' would participate in no fewer than four Mille Miglia retrospective events, driving the car from England to Italy on each occasion. The car also won its first Vintage Sports Car Club race as long ago as 1967, and it has since featured in the Eifel Classic at the Nurburgring, Germany, the Nuvolari Rally at Mantua, Italy, a range of events in the Far East and also in others at such evocative British circuits as Silverstone, Oulton Park, Castle Combe, and Snetterton.


The James Young Coachbuilding company had been founded in 1863 and turned its attention from horse-drawn carriages to automotive horsepower relatively late, in 1908. Into the mid-1920s the Bromley, Kent, based coachbuilder had already bodied several Alfa Romeo RL SS chassis, and it worked closely with British concessionaire F.W. Stiles. In fact James Young bodied so many of the new 6C chassis for him that the company became in effect Alfa Romeo's 'official' British-market coachbuilder. The 'Stiles Threesome' body as offered here was designed by Stiles for the 1750 SS and GS chassis, and was a particularly successful combination of practicality and attractively-proportioned form.

So the incredibly useable and immensely rare James Young Alfa Romeo 1750 now offered here provides the outstanding provenance of no fewer than 47 years in one ownership, plus the extra assurance and cachet of having been preserved and maintained throughout that period by an owner who is not only a lifelong Alfa Romeo enthusiast but also a specialist restorer of these cars.

It was assembled originally by the well-known and thoroughly well-documented pre-war British Alfa-Romeo concessionaire "Fred Stiles" for his own personal use. It retains its original body, the only body that has ever been on this chassis. It was first UK road-registered as long ago as 1938, and the original-style buff logbook documentation offered with it confirms previous ownerships. It is a genuinely sporting car that has been well used, and equally well maintained. It is an immensely useable sports car with three-seat capacity, the supercharged Alfa Romeo cachet and charisma, and that rare 'Testa Fissa' performance and power. 'FGU' is, indeed, a lovely thing.

The car is offered with well-presented history files that contain V5 Registration document, old style log books, and much correspondence. Also included in the sale is a copy of Baylis's autobiography where FGU is prominently featured and illustrated.
Added to this, the engine, gearbox, clutch and rear axle have all recently been fully rebuilt by Historic Competition services in Belgium to the highest standards and the car carries a full picture documentation file of all of the work done.
A once in a lifetime opportunity to own a Blue Chip investment that you can enjoy as much for its looks and rarity as you can for its driving pleasure. On top of that, you will be able to enjoy an exhaust note that they surely play in automotive Heaven.
Fahrzeugdaten
Marke

Alfa Romeo

Modell

6C

Modellbezeichnung

6C 1750 Super Sport / Gran Sport / TF

Baureihe

Nicht angegeben

Erstzulassung

Nicht angegeben

Baujahr

1929

Tachostand (abgelesen)

Nicht angegeben

Fahrgestellnummer

0332975

Motornummer

10814381

Gänge

Nicht angegeben

Matching numbers

Nein

Anzahl Vorbesitzer

Nicht angegeben
Technische Details
Karosserieform

Cabriolet (Roadster)

Leistung (kW/PS)

118/160 (ab Werk: 63/85)

Hubraum (ccm)

1752

Zylinder

6

Türen

Nicht angegeben

Lenkung

Rechts

Getriebe

Manuell

Gänge

Nicht angegeben

Antrieb

Heck

Bremse Front

Nicht angegeben

Bremse Heck

Nicht angegeben

Kraftstoff

Benzin
Individuelle Konfiguration
Außenfarbe

Rot

Schiebedach

Nein

Faltdach

Nein

Servolenkung

Nein

Zentralverriegelung

Nein

Elektrische Fensterheber

Nein

Innenfarbe

Schwarz
Innenmaterial

Leder

Sitzheizung

Nein

Klimaanlage

Nein

ABS

Nein

Airbag

Nein

Tempomat

Nein
Zustandskategorie

Restauriert

Gutachten vorhanden

Nicht angegeben

Zustand

H-Kennzeichen
Zugelassen

Fahrbereit

FIVA

Mille Miglia geeignet

Historic Competition Services
Julian Messent
Sint-Jansveld 5
2160 Wommelgem
🇧🇪 Belgien
Weitere Fahrzeuge von Historic Competition Services