1967 |

Jaguar E-Type 4.2
Series 1 OTS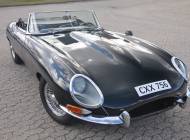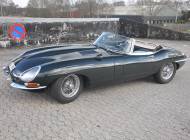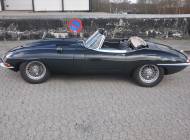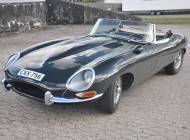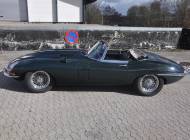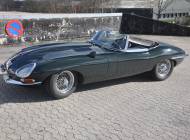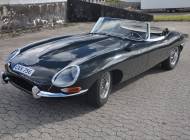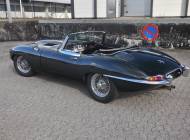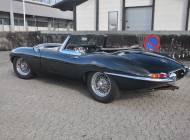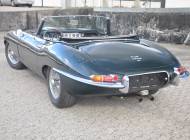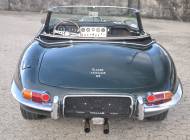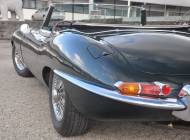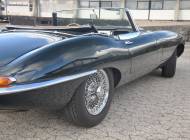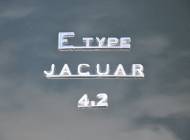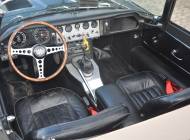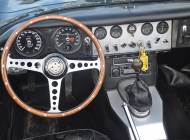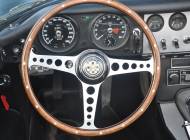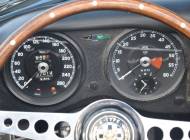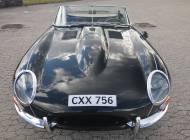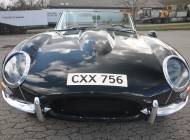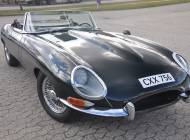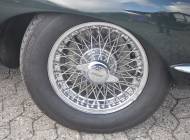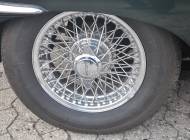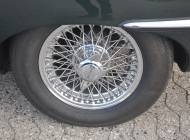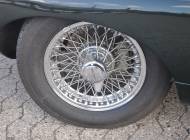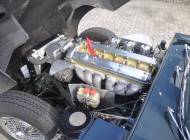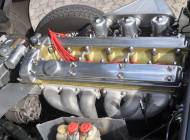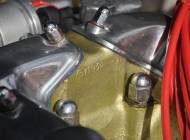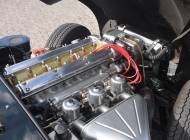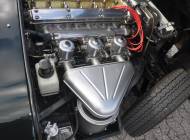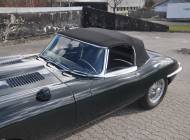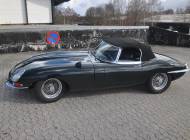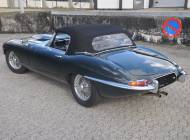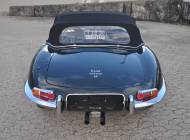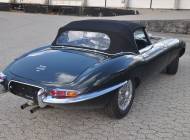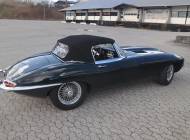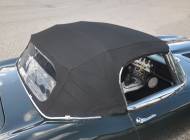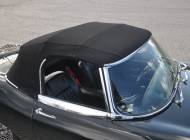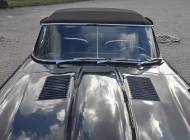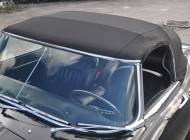 1967 |
Jaguar E-Type 4.2
Series 1 OTS

Seller: Private
Vehicle details

Vehicle data

| | |
| --- | --- |
| Make | Jaguar |
| Model | E-Type |
| Model name | E-Type 4.2 |
| Series | Serie I |
| Year of manufacture | 1967 |
| Condition category | Restored |
| Mileage | 97,014 km |
| First registration | 04/1967 |
| Matching numbers | Yes |

Technical details

| | |
| --- | --- |
| Body style | Convertible |
| Body detail | Roadster |
| Power (kw/hp) | 198/269 |
| Cubic capacity (ccm) | 4,235 |
| Cylinders | 6 |
| Doors | 2 |
| Steering | Left (LHD) |
| Transmission | Manual |
| Gears | 4 |
| Drive | Rear |
| Front Brake | Disc |
| Rear Brake | Disc |
| Fuel | Petrol |

Individual configuration

| | |
| --- | --- |
| Exterior colour | Green |
| Manufacturer colour name | British racing green |
| Interior colour | Black |
| Interior material | Leather |
Description
MATCHING NUMBERS SERIES 1 E-TYPE
The Jaguar E-Type is a British sports car that was manufactured by Jaguar Cars Ltd between 1961 and 1975. Its combination of beauty, high performance, and competitive pricing established the model as an icon of the motoring world. The E-Type's claimed 150 mph (241 km/h) top speed, sub-7-second 0 to 60 mph (97 km/h) acceleration, unitary construction, disc brakes, rack-and-pinion steering, and independent front and rear suspension distinguished the car and spurred industry-wide changes. The E-Type was based on Jaguar's D-Type racing car, which had won the 24 Hours of Le Mans for three consecutive years beginning in 1955, and employed what was, for the early 1960s, a novel racing design principle, with a front subframe carrying the engine, front suspension and front bodywork bolted directly to the body tub. No ladder frame chassis, as was common at the time, was needed and as such the first cars weighed only 1315 kg.
On its release on 15 March 1961 Enzo Ferrari called it "the most beautiful car ever made". In 2004, Sports Car International magazine placed the E-Type at number one on their list of Top Sports Cars of the 1960s. In March 2008, the Jaguar E-Type ranked first in The Daily Telegraph online list of the world's "100 most beautiful cars" of all time.
The Series 1 was introduced, initially for export only, in March 1961. The domestic market launch came four months later in July 1961. The cars at this time used the triple SU carburetted 3.8-litre six-cylinder Jaguar XK6 engine from the XK150S. Earlier built cars utilised external bonnet latches which required a tool to open and had a flat floor design. After that, the floors were dished to provide more leg room and the twin bonnet latches moved to inside the car. The 3.8-litre engine was increased to 4.2 litres (4,235 cc) in October 1964.
The 4.2-litre engine produced the same power as the 3.8-litre (265 bhp;198 kW) and same top speed (150 mph; 241 km/h), but increased torque approximately 10% from 240 to 283 lb⋅ft (325 to 384 N⋅m). Acceleration remained pretty much the same and 0 to 60 mph (0 to 97 km/h) times were around 6.4 seconds for both engines, but maximum power was now reached at 5,400 rpm instead of 5,500 rpm on the 3.8-litre. That all meant better throttle response for drivers that did not want to shift down gears. The 4.2-litre's block was completely redesigned, made longer to accommodate 5 mm (0.20 in) larger bores, and the crankshaft modified to use newer bearings. Other engine upgrades included a new alternator/generator and an electric cooling fan for the radiator.
Autocar road tested a UK spec E-Type 4.2 fixed head coupé in May 1965. The maximum speed was 153 mph (246 km/h), the 0–60 mph (0–97 km/h) time was 7.6 seconds and the 1⁄4 mile (402 m) from a standing start took 15.1 seconds. They summarised it as "In its 4.2 guise the E-Type is a fast car (the fastest we have ever tested) and offers just about the easiest way to travel quickly by road.".
Motor magazine road tested a UK spec E-Type 4.2 fixed head coupé in Oct 1964. The maximum speed was 150 mph (241 km/h), the 0-60 mph (97 km/h) time was 7 seconds and the 1⁄4 mile (402 m) time was 14.9 seconds. They summarised it as "The new 4.2 supersedes the early 3.8 as the fastest car Motor has tested. The absurd ease which 100 mph (161 km/h) can be exceeded in a 1⁄4 mile (402 m) never failed to astonish. 3,000 miles (4,828 km) of testing confirms that this is still one of the worlds outstanding cars"
All E-Types featured independent coil spring rear suspension designed and developed by R J Knight with torsion bar front ends, and four wheel disc brakes, in-board at the rear, all were power-assisted. The Coventry engineers spared nothing with regards to high automotive technology in braking. Jaguar was one of the first vehicle manufacturers to equip production cars with 4 wheel disc brakes as standard from the XK150 in 1958. The Series 1 (except for late 1967 models) can be recognised by glass-covered headlights (up to 1967), small "mouth" opening at the front, signal lights and tail-lights above bumpers and exhaust tips under the number plate in the rear.
4.2-litre cars have more comfortable seats, improved brakes and electrical systems, and, obviously, an all-synchromesh Jaguar designed four-speed gearbox. 4.2-litre cars also have a badge on the boot proclaiming "Jaguar 4.2 Litre E-Type" (3.8 cars have a simple "Jaguar" badge). A 2+2 version of the fastback coupé was added in 1966. The 2+2 offered the option of an automatic transmission. The body is 9 in (229 mm) longer and the roof angles are different. The roadster and the non 2+2 FHC (Fixed Head Coupé) remained as two-seaters.
This particular car was produced in 1967 - the last production year for the most desirable Series 1. The car is matching numbers and was fully restored and the engine rebuilt in 2005. The restoration was done in Sweden and is of excellent quality since the car still shows very well. Mechanically the car is well sorted and drives very well and with all the power that should be expected from the 4.2 liter XK engine. Oil pressure is very good and there are no issues with overheating. The car has been fitted with a brand new Sonnenland top. It comes documented by restauration receipts and a Jaguar Heritage Certificate.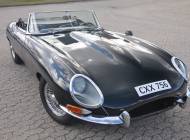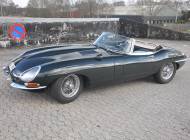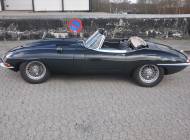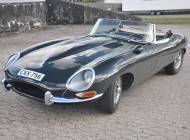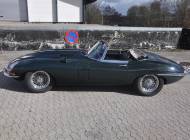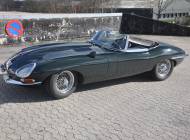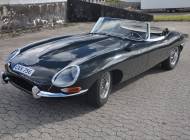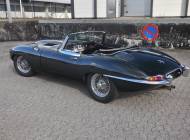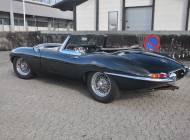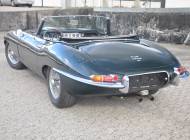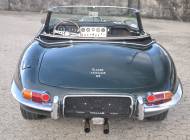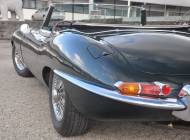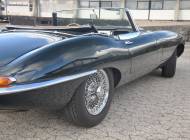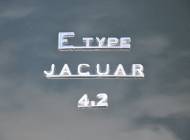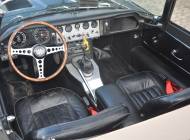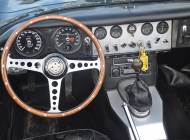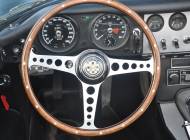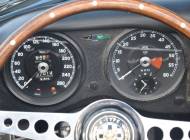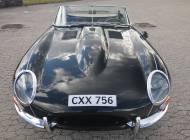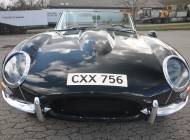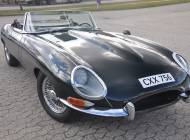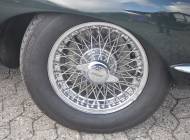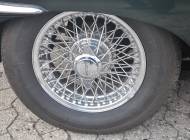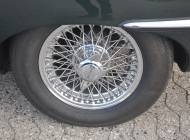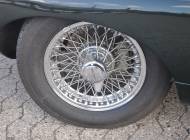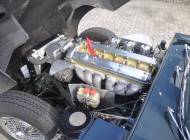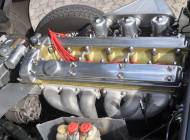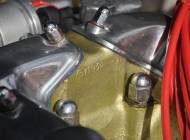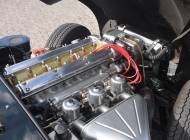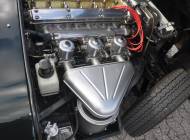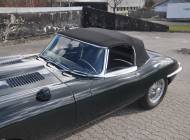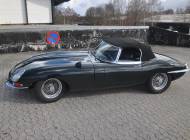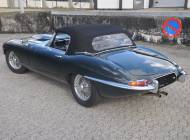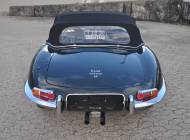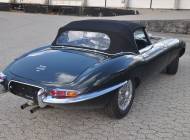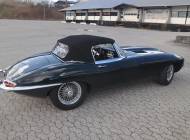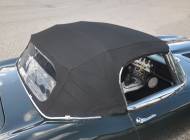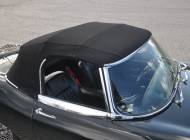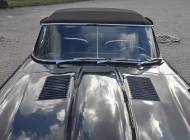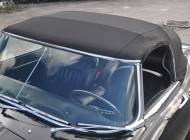 Condition & Registration

| | |
| --- | --- |
| Engine (Seller assessment): | 4 from 5 |
| Technique (Seller assessment): | 4 from 5 |
| Paint (Seller assessment): | 4 from 5 |
| Interior (Seller assessment): | 3 from 5 |
| Registered | |
| Ready to drive | |
| Accident-free | |
Loading...